About
Chutzpah (hutz·pah) is an open source JavaScript unit test runner which helps you integrate JavaScript unit testing into your website. It enables you to run JavaScript unit tests from the command line and from inside of Visual Studio. It also supports running in the TeamCity continuous integration server.
Download
Download the executable and get the source code for the Chutzpah at its Codeplex page located at http://chutpah.codeplex.com.
You can also download Chutzpah using NuGet.
You can install the Chutzpah Visual Studio extension through the Visual Studio 2010/2012 extension manager or by going to its Visual Studio Gallery page and you can install the Chutzpah Unit Test Explorer adapter on this page.
What does Chutzpah do?
Chutzpah is both a Visual Studio extension and a command line utility.
As a Visual Studio 2012 Unit Test Explorer adapter:

Visual Studio 2012 added an extensible test explorer which Chutzpah integrates into.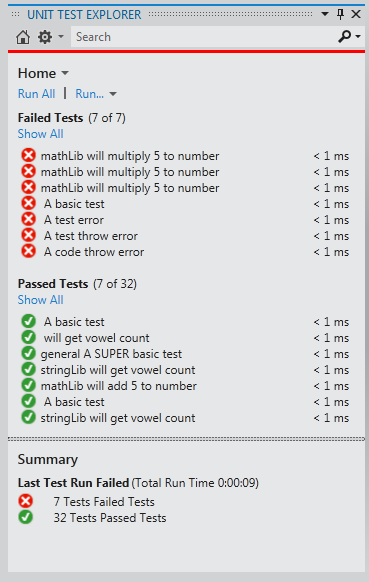 As a Visual Studio extension:
It allows you to run your JavaScript tests without leaving the IDE. It adds a context menu option to run tests directly from a source file.
It logs test results to both the Error list and the Output window.
As a command line utility:
It allows you to easily integrate test results into your build
It also has support for the TeamCity continuous integration server so that you get detailed test output on every build.
How to use it?
Chutzpah is really easy to use, given QUnit tests (it only supports QUnit for now) you can run Chutzpah on the test harness HTML file and it will output the results. Chutzpah also supports running the tests directly from the JavaScript file as long as you add reference comments to the top of your test file.
For example given two files test.js (QUnit tests file) and code.js (implementation file).
code.js
var mathLib = {
    add5: function (a) {
        return a + 5;
    }
}
test.js
/// <reference path="code.js" />

test("will add 5 to number", function () {
    var res = mathLib.add5(10)

    equals(res, 15, "should add 5");
});
You can run the tests by right clicking and choosing "Run JS Test" if you are using the Visual Studio plugin, otherwise you can execute Chutzpah from the command line:
.\chutzpah.console.exe test.js